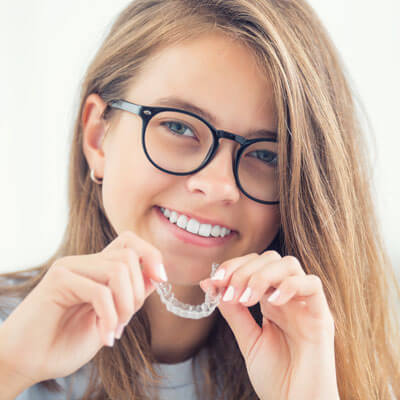 Yes, you read it right! Now Invisalign is offering their state of the art technology for teens. At first I thought it was a crazy idea too….. teens keeping up with clear trays on a daily much less hourly basis?
But according to the Invisalign research teens are actually more compliant wearing the invisible aligners than adults! Plus Invisalign has started offering six free replacement trays to each teen patient.
Here are reasons to consider Invisalign for your teen:
Removable – Invisalign Teen allows your child to remove the aligners for eating and brushing, so it is easier to maintain proper oral hygiene. Your teen can brush and floss normally, which can help prevent tooth decay and gum disease.
Better than that, since they are removable, there are NO food restrictions.
Best of all they are conducive to our kid's active lifestyles. Trays can be removed for games and practices or for playing band instruments. Your teen can participate in their favorite activity without the worry of mouth injury.
Invisible – Let's face it, our teens are very self-conscious about their appearance. With Invisalign, their peers can hardly notice they are straightening their smile giving them greater self-confidence. Those important pictures will be metal and bracket free!
Comfort – Invisalign straightens your teeth using plastic (not metal) attachments and trays for better comfort.
Effective – With most cases, clear retainers can do exactly what wire braces can do. There are great innovations in technology that make your "tooth straightening" experience easier then ever before. Also in most cases, Invisalign is faster than old school braces. Teens can switch their trays at home after just one week, progressing their treatment on a expedited timeline like never before.
I personally put my own 12-year-old in Invisalign since his overall development was good but the teeth were still maligned. He did great! Never lost a tray and made mom and dad happy with less visits to the orthodontic office.
Invisalign is a great, convenient, and teen friendly way to straighten teeth. Ask your dentist or orthodontist about clear retainer therapy and see if your son or daughter is a candidate.