Implant Placement in Dripping Springs
Implant placement is one of the most important steps in the implant process, and one that the team at Ron S. White, DDS is proud to offer patients.
When a person chooses our dentists for their implant journey, they can rest easy knowing that they're receiving custom, confident care that's designed to bring a beautiful smile to their faces…literally!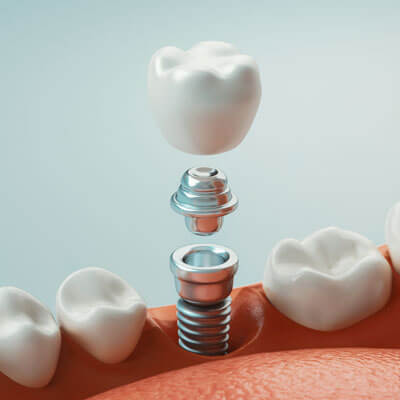 What to Expect
Placing an implant requires great skill and knowledge, and our dental team has advanced certification in this specific area.
First, preparation begins, which entails making sure a patient is a candidate for an implant. After deciding to move forward with care, any extraction of teeth that is required must take place.
After tooth extraction, a strong, durable titanium rod is placed where the root of the tooth once was. Over the course of a few months, the jaw bone and rod fuse together, which provides great strength and integrity to the implant. Once the jaw bone and gums have healed completely around the implant, the next step of the process can begin, which includes adding an abutment and placing the crown.
Frequently Asked Questions
Patients will be anesthetized or can select to be sedated. With both options, patients will rest comfortably while the procedure occurs, and will not be able to feel any pain.
Do I need a driver after the procedure?
Yes, it's important that patients bring a trusted loved one with them to their implant placement appointment so they can safely drive them home after their appointment.
A typical patient heals in about three months, though every person is unique. We'll carefully monitor your progress so that we can place your crown as soon and safely as possible.
Learn More About Implant Placement
Our dentists encourage all interested patients to book an appointment to learn more about implant placement and how it can help them achieve a beautiful smile. Contact the practice today to begin the process!
CONTACT US »

Implant Placement Dripping Springs TX | (512) 858-5683